Mayor Dewey Bartlett aims to strengthen high school mentoring program for manufacturing workforce
Mayor wants to expand training aimed at manufacturing.
Mayor Dewey Bartlett wants to grow the city's mentoring program with high schools to address the increasing need for manufacturing workers.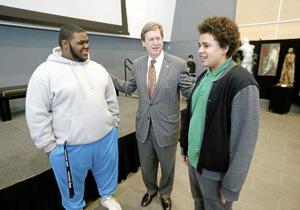 Mayor Dewey Bartlett (center) talks with Union High School students Corde' Brown (left) and Keilon Cone during a workforce development event at Tulsa Community College's downtown campus on Tuesday. MATT BARNARD/Tulsa World
Bartlett hosted a breakfast Tuesday to highlight the past year's accomplishments by the city's Mentoring to the Max program, a group of businesses that team up with high schools to mentor students in science, technology, engineering and math, or STEM.
The mayor said the mentoring program emphasizes hands-on experience for students, and expanding it will get more Tulsa high school graduates ready to join the workforce.
The Tulsa Regional Chamber co-hosted Tuesday's breakfast, where officials noted that the area's manufacturing sector is growing. Chamber projections call for an additional 15,000 advanced manufacturing workers through 2018.
Bartlett said Tulsa could benefit if those workers are trained in Tulsa, which would make the area more attractive to prospective businesses.
"Many students are not going to college for whatever reason," Bartlett said. "By learning a trade and learning how to use one's hands doesn't mean that a student can't go to college. It means that they are widening their experiences and widening their vision."
Making high school programs part of an engineering atmosphere has long been a goal of Bartlett's. For several years, he has pitched the idea of weaving a program into engineering work in Tulsa's aviation industry.
"It provides what I think is one of the more important things that education does," he said.
Bartlett's goal is to strengthen Tulsa's available workforce in engineering and manufacturing to reduce the training that big employers need to develop their companies, he said.
"It makes Tulsa more attractive, and it makes Tulsa very unique," Bartlett said. "Most parts of the country focus on getting a student ready for college and that's it."
Bartlett called developing such a workforce one of his major goals in office.
"If we can provide that opportunity, then we would become very unique," he said. "No one else is doing it."
Brian Paschal, the chamber's vice president of education and workforce, said STEM mentoring and developing the manufacturing workforce are part of the same big picture to help Tulsa grow.
"We want to educate students on opportunities that are home grown," he said.
Paschal said Tulsa has out-performed all but 11 U.S. cities in the creation of manufacturing jobs since 2009.
To maintain that growth and encourage more, the city needs to grow the appropriate workforce, he said.
"We need to better connect what those opportunities are," Paschal said.
Jarrel Wade 918-581-8367, jarrel.wade@tulsaworld.com
http://www.tulsaworld.com/news/government/mayor-dewey-bartlett-aims-to-strengthen-high-school-mentoring-program/article_605bc885-8c24-5e8c-9536-ba8b360f7fec.html
Other links about the breakfast;
http://www.wset.com/story/27953330/mayors-mentoring-breakfast-draws-dozens-encourages-giving-back
http://www.unionps.org/index.cfm?id=100&newsId=15274